---
IUCHI, Seiichi
The Philosopher's Sabbath
This is an artwork that has no imbedded "questions" or "answers". It is a work that anticipates the miraculous coincidences induced by the sunlight filtering through the trees during the day and the moonlight at night.
I happened to see a group of ascetic monks walking in an orderly line in the garden of Sogenji Temple. They looked like beautiful philosophers, that immediately struck me with the composition of my work.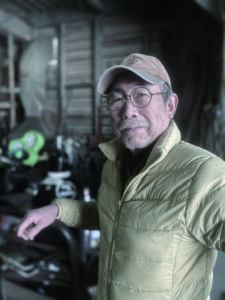 The Buddhist philosophy is difficult for me to understand, but I believe that the insight to perceive beautiful things is what helps those who are old enough to feel and create.
I stick to iron in my production and started to feel attracted by rust over time.The theme of my work is "I am looking for delicate tone of hand play ", a faint tone that arises in the process of rusting.
This time, I used lacquer to consciously block the progress of rust, but lacquer is most vulnerable to sunlight. I am hoping for a miracle in that the natural light of the moonlight and the sunlight filtering through the trees I mentioned earlier may allow me to hear the most subtle sound that comes from under the covered lacquer along with the beautiful figures of the philosophers.